The world of fashion is bringing spring straight from the runway and into our rooms. But this time we aren't talking about our closets…that's right! It's officially time to give our homes a little spring makeover of their own.
So say goodbye to those winter blues and embrace the season of change! With fashionable prints, colors galore, and a whole lot of floral—these trendy designs are just what the fashion police ordered.
Wondering what it takes to give your home that fresh spring look? Try incorporating some of these seasonal styles.
Go for Gingham—One of the big trends for Spring 2015 fashion is gingham. According to Glamour, "Fall may have brought us proper plaids, but for spring it's all about the tiny check. The best part? It has a sexy, swingy vibe—not a touch of Pollyanna in sight." Everyone from Diane von Furstenberg to Oscar de la Renta was showing this trend. And trust us, it looked anything but country.
Say Hello to Yellow—Another big trend this spring is the color yellow. This can be an intimidating hue to embrace, but from from amber and canary to saffron and marigold to butter and honey, there's sure to be a tone that's just right for you.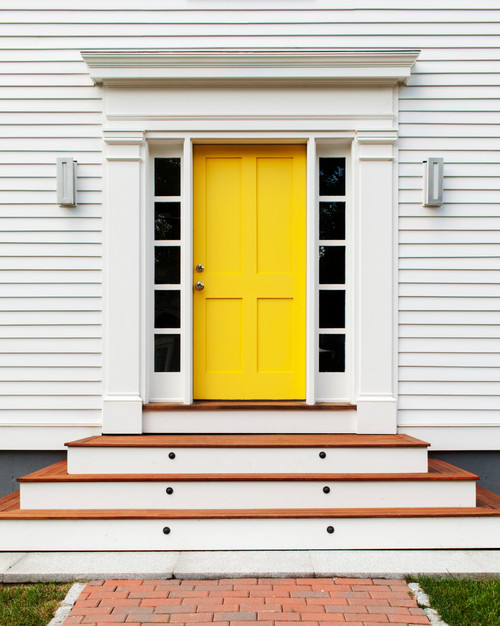 White Out is So In—According to Glamour, when it comes to white, "it isn't about the rules of when you can wear all-white; it's about how you wear it. New styling tricks include mixing textures, layering multiple pieces, and teaming various shades." This same philosophy can be easily applied to your home. If decorating in all white, mix-and-match textures and shades to create dimension in your room. You'll be surprised by how dramatic—and refreshing—a colorless space can be. Just check out this beautiful bedroom from Laura Tutun Interiors.

Mission Military—In addition to yellow, military greens are making a big mark this spring. But you don't need to hit up the local army surplus store to stay on trend. Instead think of dark, rich, muddy greens and streamlined designs, like this contemporary kitchen with olive green walls that we found on Houzz.
Get Comfortable in Denim—The big trend for jeans this spring is roomy denim. Yes, it's out with the skinny jeans and in with the cropped, baggy cuts. When it comes to your home, denim is a great textile for creating a casual, comfortable space. Take this room here, for example, the oversized denim ottoman speaks to the season's trend without sacrificing one bit of style.
Are you Black and White or Blue and White?—Black and white is everywhere this spring. As is it's more subtle counterpart, blue and white. Neither of these trends are groundbreaking, but, according to Glamour, "what makes this season's take on the classic color combination interesting, though, are the various textures, patterns, and silhouettes."
What do you think of this spring's hottest trends? What are your favorites? Let us know in the comments section below.